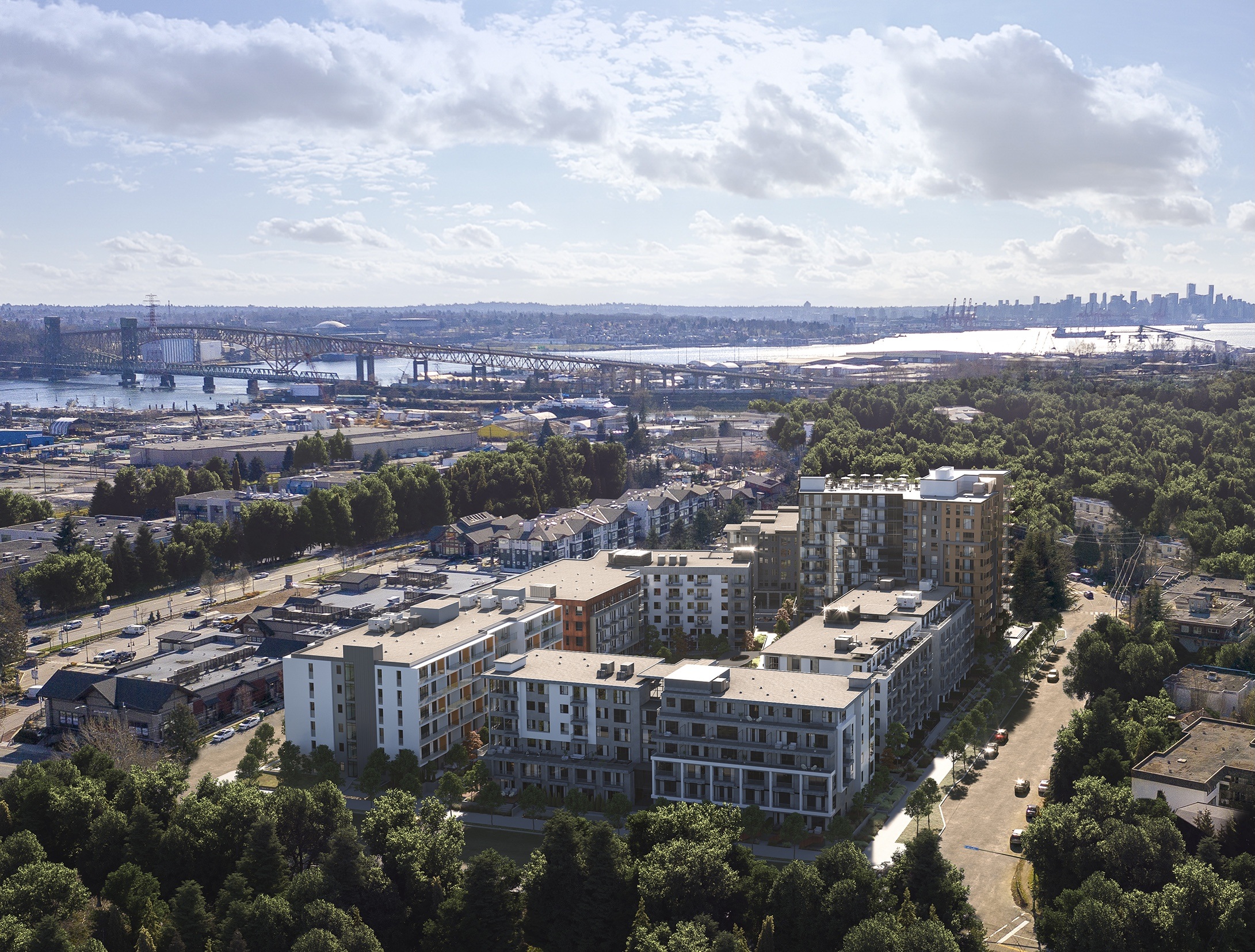 QuadReal and Darwin Properties Propose a New 553 Home Mixed-Use Development in Maplewood, North Vancouver
News
| Posted on Dec 09, 2021
December 6, 2021 – Darwin Properties and QuadReal are proposing a significant transformation to Maplewood Town Centre in North Vancouver with 553 new homes, retail, a community high street, playground and central courtyard. Maplewood Gardens is a two-phase development that would revitalize an entire city block, with BC Housing managing the rental building in Phase 1. The rental building will include 58 non-market homes for the existing families living on site, plus 22 additional rental units for middle income households. Once complete, the development will include a total of 374 condos in three buildings, a second rental building with 99 market rental units, plus 10,600 square feet of retail amenities for the area.

In the heart one of four key centres identified for growth by the District of North Vancouver, Maplewood Gardens is poised to become an important employment and residential hub, critical to the evolution of the area into a town centre that offers residents the opportunity to live, work and play in a walkable setting. According to a recent Colliers report, the new development will provide more than one-third of the housing supply necessary to meet the District's 2030 planning target of 1,500 new units in the Maplewood area, while also contributing to the 4,500 net new jobs planned for the District as a whole.

"We are excited to partner with QuadReal on this new family community that will serve many different demographics on the North Shore, giving people the option to stay in the community. We hope the development will become a vibrant, new residential community providing a spectrum of housing solutions to support the future growth of the area," said Chris Wilkinson, Senior Development Manager, Darwin Properties.

Within both phases of the new Maplewood Gardens development will be 31,000 square feet of commercial and live/work space, 15,000 square feet of amenities, a 2.9 acre central courtyard, 600 parking stalls and a new B-line rapid transit stop. The development will increase employment space on site by more than 25%, triple the current number of rental homes, enhance recreational park space, add landscaped features and covered amenities. In addition, it will exceed District requirements on sustainability, including the District of North Vancouver's first mass timber residential building, parking for 1,000 bikes, two new separated bike paths, 100% EV wired parking stalls and less parking than required in order to promote sustainability, walkability and transit use for the entire Maplewood area.

For more information: www.maplewoodgardens.ca


About Darwin Properties
Darwin Properties is a family-run development company that was founded as Darwin Construction in 1987. Since then, Darwin has grown to be one of the most active developers on the North Shore, with a construction division as well as a development division. With over 30 years of experience in construction and development, Darwin now has more than 65 acres and 4.8 million square feet of residential, mixed-use and commercial projects in the planning or construction phase of development on the North Shore, including Lonsdale Square, the North Shore Innovation District and Maplewood Gardens. It is actively working in joint venture partnerships with the Tsleil-Waututh First Nation and institutional investors like QuadReal and Minto to build holistic, integrated and healthy communities within large-scale, master-planned developments.
News
Media Contact
Cori Howard
cori@corihowardcommunications.com
778-987-1345